Backhaul Alaska helps recycle 100,000 pounds of batteries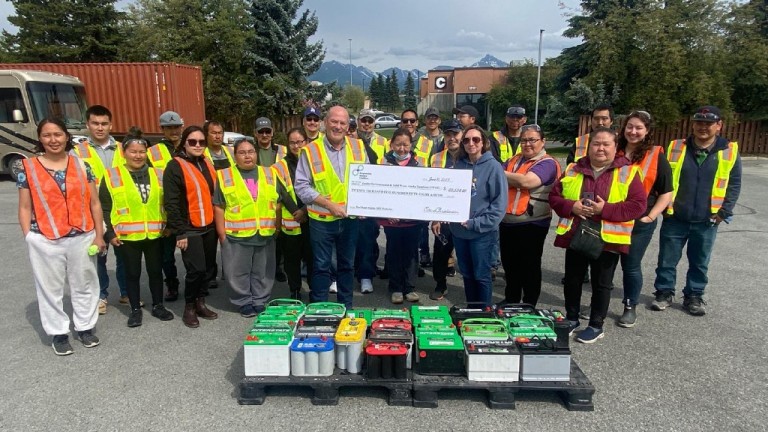 The Responsible Battery Coalition (RBC) applauded the success of Backhaul Alaska's 2021 program, which collected and recycled approximately 100,000 pounds of used lead-acid batteries from more than three dozen remote Alaskan communities.
The Backhaul Alaska program, administered by the Solid Waste Alaska Taskforce (SWAT), includes the Alaska Department of Environmental Conservation, the Alaska Native Tribal Health Consortium, Kawerak, and the nonprofit Zender Environmental Health, which manages the program on a day-to-day basis. .
"RBC is proud to partner with Backhaul Alaska to make progress toward creating a more circular economy for vehicle batteries and in doing so, help protect human health and the environment in these remote communities," said Steve Christensen, executive director of Responsible Battery Coalition. "It is only through extensive coordination and cooperation among volunteers and stakeholders across Alaska that we are able to help keep batteries out of the environment and recycled in a responsible and traceable."
RBC supports the Backhaul Alaska program by providing packaging, shipping and training supplies, supporting battery barge transportation and providing recycling services, all at no cost to Backhaul Alaska. In 2021, the Responsible Battery Coalition also refunded $20,558 to the Backhaul program for used battery "cores," which are 99% recyclable and contain valuable materials. This funding will be used to support new volunteer training sessions, purchase equipment and reduce operating costs.
"RBC has been one of our strongest partners since joining us in 2018," said Lynn Zender, Executive Director of Zender Environmental. "Their financial and logistical support helps us apply limited resources where they are most needed and is a key part of our plans to expand the program from 40 remote communities in 2022 to approximately 180 communities by 2030."
Lead-acid batteries are a vital power source in Alaska, providing essential power for snowmobiles, ATVs, boats, tractors and other heavy equipment, as well as automobiles and trucks. The Responsible Battery Coalition's support of Backhaul Alaska is part of its national battery recovery campaign, the 2 Million Battery Challenge.